Triumph Learning Named As Educational Publisher To Watch
Market analysis on the role of games in education reveals ten digital solutions by educational publishers to watch
NEW YORK, NY (PRWEB) NOVEMBER 20, 2014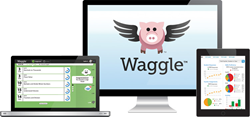 Triumph Learning, producer of critically acclaimed K-12 instructional materials and interactive digital tools, was named to the 10 to Watch list in Outsell Inc's October 2014 report, The Role of Games in Education. The company was recognized for the gamification elements in its new personalized, smart practice solution, Waggle.
"Games within products like Waggle are increasingly similar to the consumer games to which K-12 students are already accustomed, and that is where they demonstrate real perseverance to achieve their goals," said Kate Worlock, vice president and lead analyst at Outsell.
Triumph Learning's approach to gamification in Waggle is to integrate educational games into the personalized, learning pathway for each student. Students get mixed practice in Waggle with games and eleven tech-enhanced item types, such as drag-and-drop, graphing and sorting. Students get credit for all of their activity and effort in Waggle, earning badges for meeting key milestones.
"Games are becoming a critical component of today's classroom to engage students in their lessons," said Aoife Dempsey, chief technology officer of Triumph Learning. "We designed Waggle with gaming elements to help students see their learning goals as more than just a grade they earn."
Outsell, the leading research and advisory firm focused on media, information and technology, conducted desk-based research for this report, looking at blogs and mainstream press, as well as journal articles investigating the impact of games and gamification in education. The report was also formed from primary research in the form of interviews with publishers, hardware producers, games developers and creators of educational games to complement this secondary desk research. To download the full report, please visit Outsell's online store.
To learn more about Waggle, visit http://www.triumphlearning.com/waggle.
About Triumph Learning
Triumph Learning, LLC, is a leading educational content company and publisher of print and digital K-12 resources, standards-aligned instructional materials and effective literacy programs. Its state-customized products increased student achievement and raise scores on high-stakes exams for more than 6 million students in 36,000 schools in 2013 and 2014. Triumph Learning offers unique student solutions, robust teacher support, and professional development opportunities. Triumph Learning is committed to serving all students with a mix of interactive digital tools and innovative student texts with products such as Coach and Waggle. For more information, visit http://www.triumphlearning.com.
About Outsell
Outsell, Inc. is the only research and advisory firm focused solely on media, information, and technology. We use a time-tested, quality-proven, top-secret blend of data, brains, community, and pizzazz to produce extraordinary value for our clients. Elite information industry executives from all over the world look to Outsell for trusted advice, bold insights, and confidential access to exclusive intelligence and decision support. Outsell has your back. You'll stay more focused, save time, grow revenue in a fast-changing digital environment, and sleep better at night. Guaranteed.